08/10/2018
It looks like the venture capital market is again willing to place some sizeable bets on legal tech companies looking to disrupt the global legal industry.
The legal industry has for many years been one where the only factor of production that has mattered is labour. The dominance of labour informs everything about the industry as it exists today – price is set according to the scarcity of that factor (time); the dominant market participants are owned by the key labour (as partnerships); and the solution to most legal problems is to 'throw more and better people' at them.
We are now in the early stages of a radical transformation of this industry, where both labour and capital will be crucial to the delivery of legal services to clients. The ability for capital (largely in the form of technology) to capture economic rents that previously accrued to labour provides an opportunity for investors that was not previously available.
When I first joined the legal industry, as COO of Gilbert + Tobin in 2015 (I don't count my stints as a paralegal 20 plus years before), the first thing I did to understand the forces at work was to follow the money. In particular to look at where venture capital was placing its bets to attack existing profit pools.
In that year there was plenty of action.
CB Insights shows that year as the high water mark of legal tech investment activity – 74 deals representing over US$450m. The capital was coming. The bets in that year were big: LegalZoom raised US$171m (with some as debt) and Avvo US$71m respectively to take on the US consumer law market; and kCura (now Relativity) raised US$125m going after eDiscovery.
At the time, we could anticipate a wave of capital coming after all sorts of aspects of the legal market and particularly those tasks currently performed by labour and better able to be done by machines. With that sort of money, these companies would surely crack some of the difficult problems of complex cognition in the work of lawyers.
Then we had a big pause.
The deal volume dropped off significantly in 2016 and recovered only slightly in 2017. Most importantly the average deal size and median deal size dropped dramatically. There were plenty of funding events and press releases, but not that much money moving into the sector. Apart from a couple of big moves in eDiscovery (Lighthouse, Zapproved), the investments were very modest in size. There were many investments well below $1m, and lots of unsustainable ideas got some funding that would end up going nowhere.
In 2016, our firm made an investment of around $4m in LegalVision, an Australian start-up law firm that was combining technology and process with a great team of lawyers to bring a different approach to our legal market. While being a big move for a law firm partnership such as ours, the scale of this investment shouldn't really register on the VC scale. Yet, in legal tech, it would have been in the top 15 or so deals globally in that year.
It appeared at this point that the disruption opportunity from using machine learning and other technology to replace the cognitive labour in many legal processes was not sufficiently achievable or rewarding to attract the necessary capital. Perhaps the capital and talent required to crack these tough problems was better deployed against other problems in the economy? Problems with much more value at stake.
It was only late in 2017 that some more serious bets started being placed on changing how legal work is done – for example, Luminance (machine learning document review) and ROSS Intelligence (legal research) announced investments of $10m and $8.7m respectively.
Then, boom, the money was back.
2018 has seen investments made by leading VC firms – looking squarely at opportunities to deploy significant amounts of capital in the delivery of legal services. eDiscovery and automating the tasks of managing large amounts of data in litigation has been a major theme with investments in Logikcull ($25m), CSDisco ($20m) and Everlaw ($25m) this year. The use of AI and in particular machine learning to improve the process of contract review has also gained momentum – LawGeex ($12m), Seal Software ($30m) and most recently Kira Systems ($50m) have all had major investments aimed at this most important of high-volume legal tasks – reading and extracting information from contracts. A secondary trade of $500m in LegalZoom reportedly valued the company at more than $2bn.
Recently we have seen one of the leading VCs in the world, Andreessen Horowitz, make a major bet on how legal services will be delivered in the future with a $65m investment in Atrium LTS – a legal technology company that is stapled to a US law firm, using technology to change the way it delivers services to its clients – initially focused on serving startups. This is a big bet, that may largely be on the track record of the individuals involved. The technology that is being mentioned around that deal at least publicly is hardly revolutionary. Check this interview with the founder for hints as to what they are doing. Ingesting a security document and auto-populating a pro forma cap table is hardly solving the most crucial inefficiencies in a $300bn industry. But surely there is more to come that they are not yet revealing (?) and the direction has been set.
The data shows that in 2018, the total volume of investment already exceeds 2017 levels. Yet there are far fewer deals. We are seeing larger and better quality investments. Major VC funds, such as Andreessen Horowitz, Bessemer Venture Partners and Insight Ventures are seeing significant opportunities.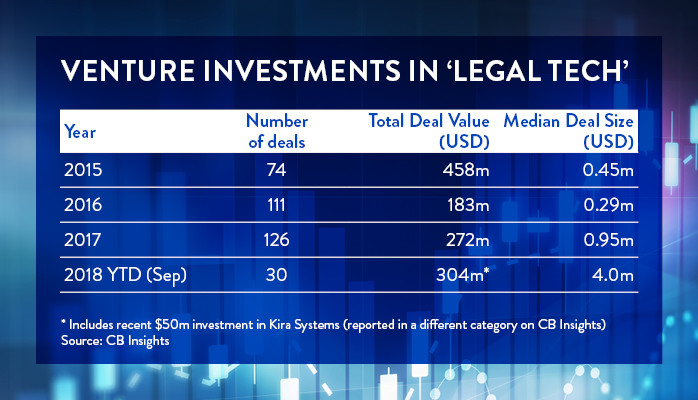 As I write this, news has come through today of CVC Capital taking a majority stake in UnitedLex - a company changing the way legal services are produced and delivered - for an undisclosed sum. The senior managing director of CVC, Siddharth Patel, is quoted as saying that "legal services [is] one of the few remaining verticals that is early in the penetration curve of technology, consulting, and solution delivery.".
Globally, the capital is coming.
What about here in Australia?
Our legal industry is also going through the same transformation. Technology is increasingly being used to solve legal problems: by law firms; inhouse legal teams; and new law entrants to the market. The major technologies we are using though are often the result of foreign capital investments. Where these technologies are the best positioned to solve a problem, we as a law firm will use them. Where there is no solution, we have on occasions built our own solutions.
There is an emerging group of start-up businesses in Australia in the legal technology arena. Some are trying to create marketplaces to change the way lawyers and their clients interact (I don't think this is that interesting, market and price discovery is not really the big issue). Others are looking to provide the technology lawyers can use to improve how they deliver services: from deal management, communications, case management and AI-based document review (these have some good potential if they can 'win' in their domain).
There are others, with similar aspirations to those stated by Atrium or UnitedLex, that are creating entirely new types of legal business to use technology to serve clients in entirely new ways (these could be game changers, and as a large law firm are the ones we watch the most closely, and, quite frankly, like to invest in and partner with).
The venture capital that has been committed to these start-ups is still minimal. I am not sure, but it's possible that our firm's investment in LegalVision remains the largest that's happened yet. That doesn't seem right given the scale of the market.
The question for our market is whether we will see similar venture bets placed on one, or a few, of these Australian companies to make a serious 'capital' play in our market. This could be an opportunity for a significant scale-up investment in an industry that is indeed, early on the curve.
This article was originally published here on 21 September 2018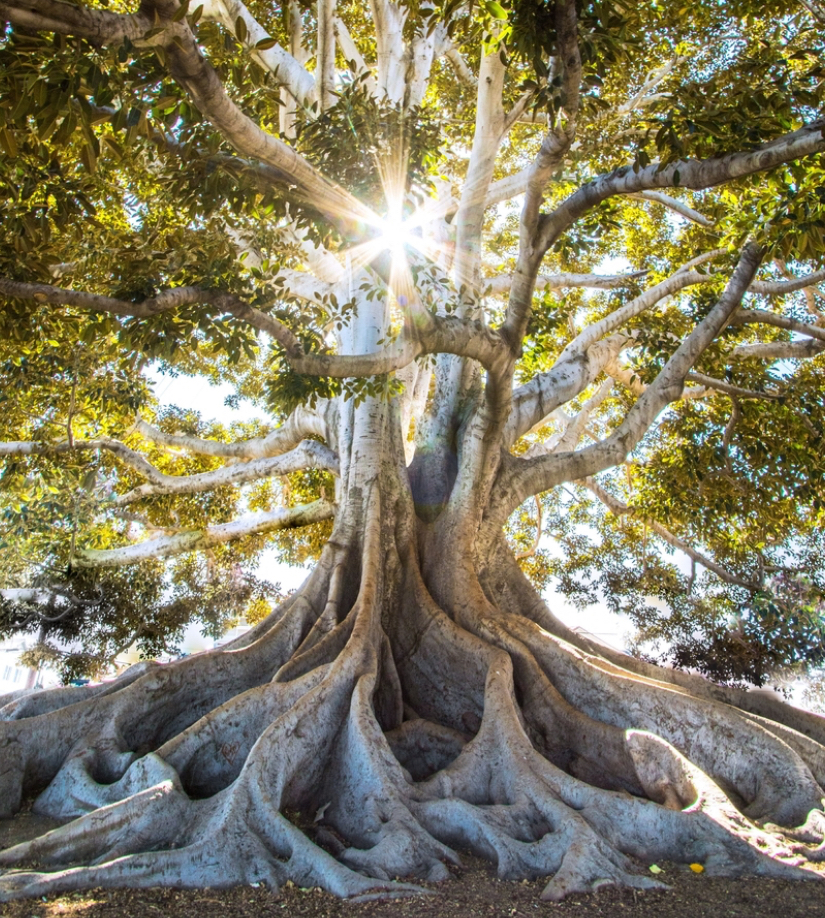 Subscribe to receive our latest articles and insights.