24/04/2023
Last week's article discussed HAI's findings on the trends in global AI R+D and AI capabilities. This week we look at the 'supply/demand' equation, which shows both a big drop in global investment in AI and a plateauing of corporate adoption of AI.
Investment in AI
HAI reports that for the first time since 2013, year-on-year global corporate investment in AI has decreased, in 2022 down by a third from 2021. The reductions in mergers and private equity were pretty much rateable, but there was a big drop in IPOs, while investment by taking a strategic minority stake in AI companies increased. IPOs were dominated by Chinese companies.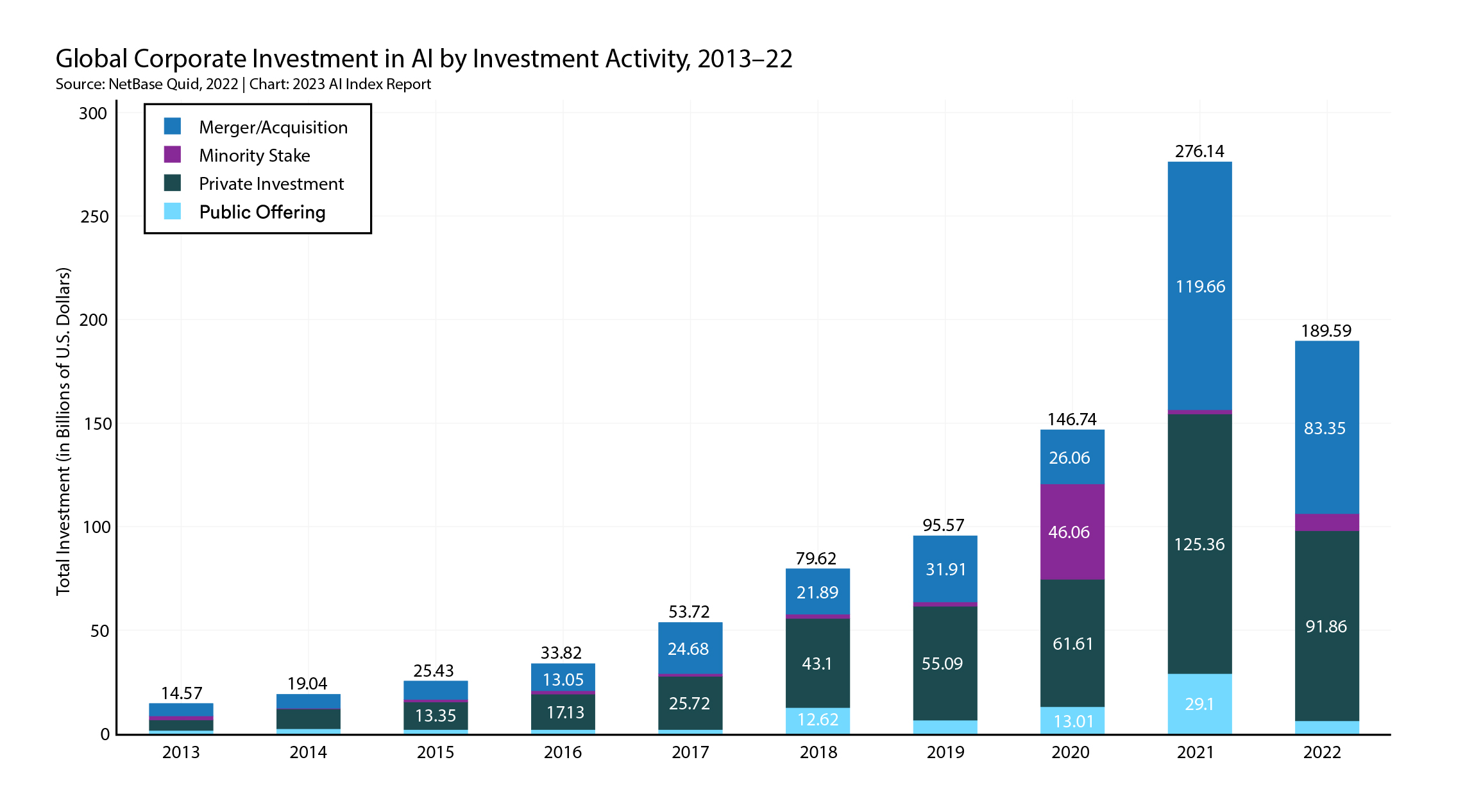 The drop in total private invest in AI is reflected in the number of individual AI companies which were funded and the size of deals, in 2022 compared to 2021:
there were 3,538 AI-related private investment 'events', representing a 12% decrease.
the number of newly funded AI start-ups fell from 1,669 to 1,392.
while the number of deals under $50 million fell by only 10%, the number of deals in the $100 million-$500 million band fell by 40%.
The US, unsurprisingly, accounts for most of the global AI private investment – 3.5 times the next highest country, China. But both experienced steeper declines in private equity investment than the global average – the US down by 35.5% and China down by 41.3%.
Australia, while part of a long tail of much smaller private investment in AI, still does better both than some much larger economies, such as Japan, and countries popularly regarded as AI 'star performers', such as Finland.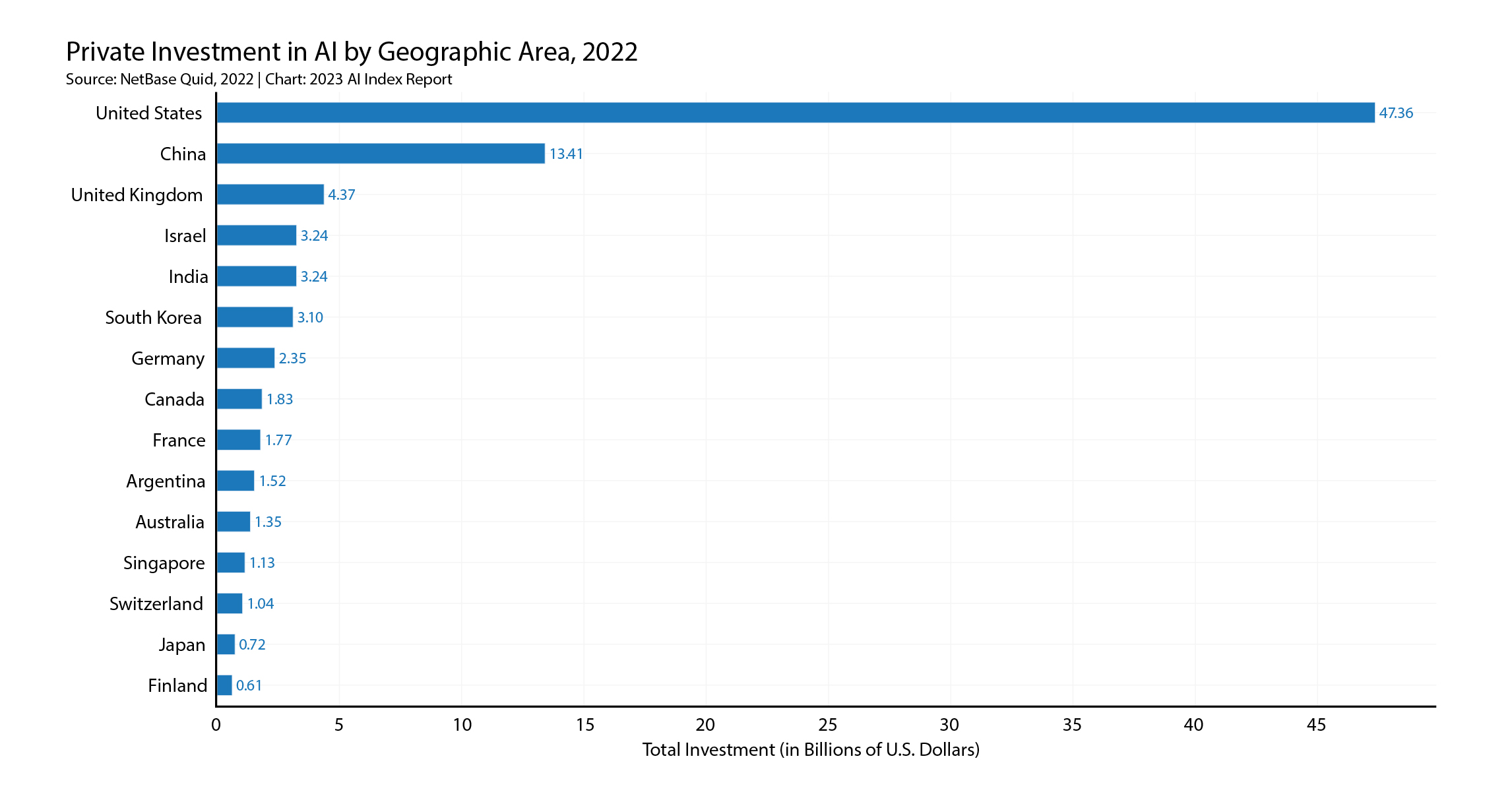 Australian private equity investment in AI also may be rapidly increasing. Nearly half of Australia's cumulative private equity investment in AI since 2013 occurred in the year 2022, and Australia has moved up the ranks ahead of Switzerland, Japan and Singapore.
As has been the case for some years now, the key focus areas for AI investment in 2022 were medical and healthcare; data management, processing, and cloud; fintech; cybersecurity; and retail. But even allowing for the drop in private AI investment across all sectors, there was a shift in the 'middle ranks', with strong growth in HR tech, drones, AdTech and legaltech.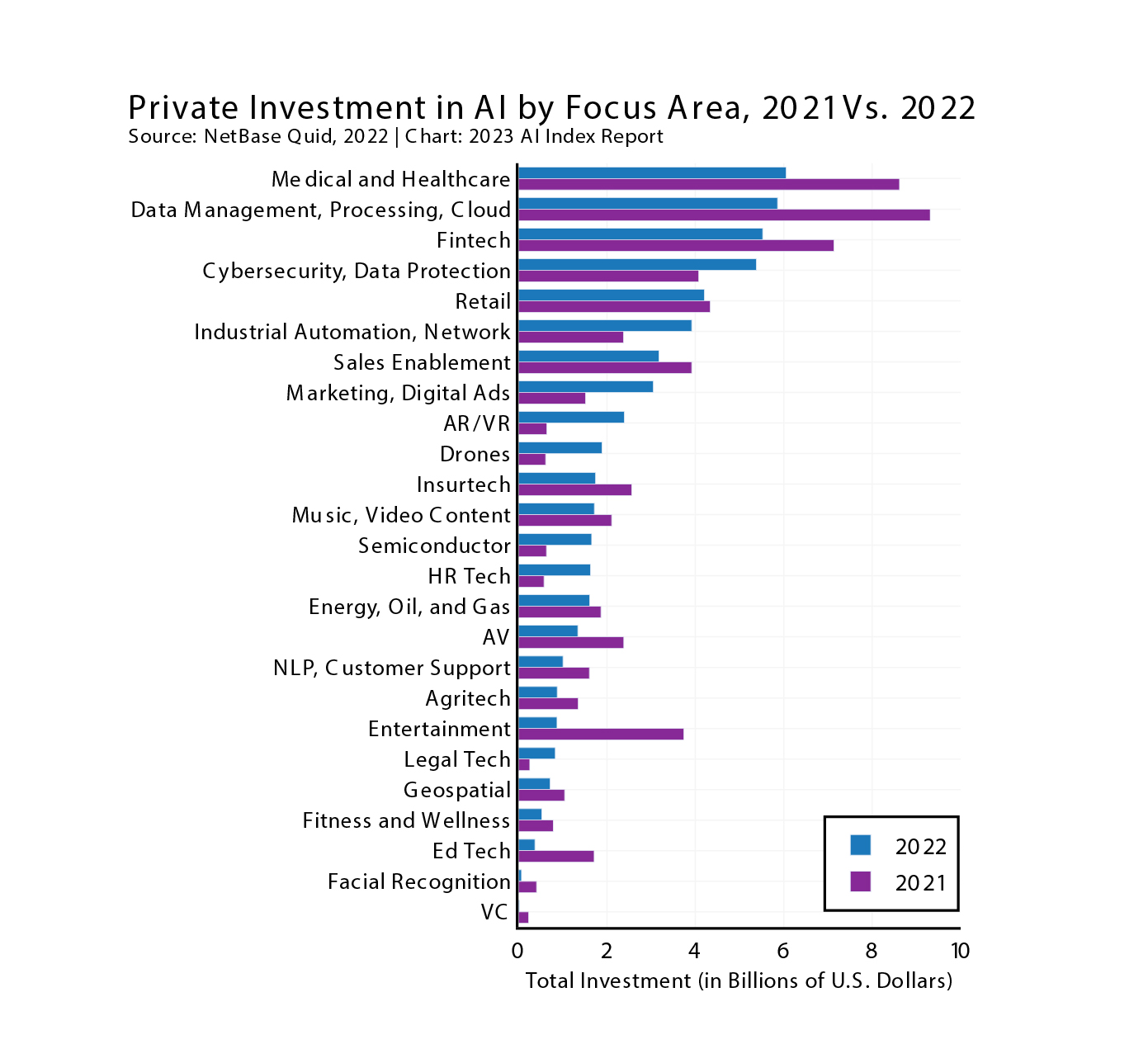 There are also differences in AI focus areas between countries. The US is smitten with drones, in 2022 investing 53 more times than China did. Conversely, and perhaps reflecting the geopolitics of export bans, China invested 1.75 times more in AI semi-conductors than the US in 2022. The US, reflecting its lawyer-heavy culture, spent 11 times more on AI legal tech than Europe.
Adoption of AI
Drawing on a McKinsey survey of the corporate sector, HAI concluded that adoption of AI by business is levelling off. In 2022, around 50% of businesses report adopting AI in at least one business unit, slightly down from 2021 but still up from the 20% that reported using AI in 2017.
The number of AI apps deployed in individual businesses has doubled since 2017, from 1.9 to 3.8 on average, which suggests that once a business builds a level of comfort with AI, it keeps pressing ahead to deploy more AI. But then again, the average number of AI apps per business also levelled off in 2022.
Turning to what companies are (formally) using AI for, in 2022, the most common corporate uses of AI were service optimisation, AI building new AI products, and customer management. But there also has been a relative shift in emphasis in corporate use of AI from the 'front office' (such as customer management and marketing) to the 'back office' (such as risk management, strategy and financing):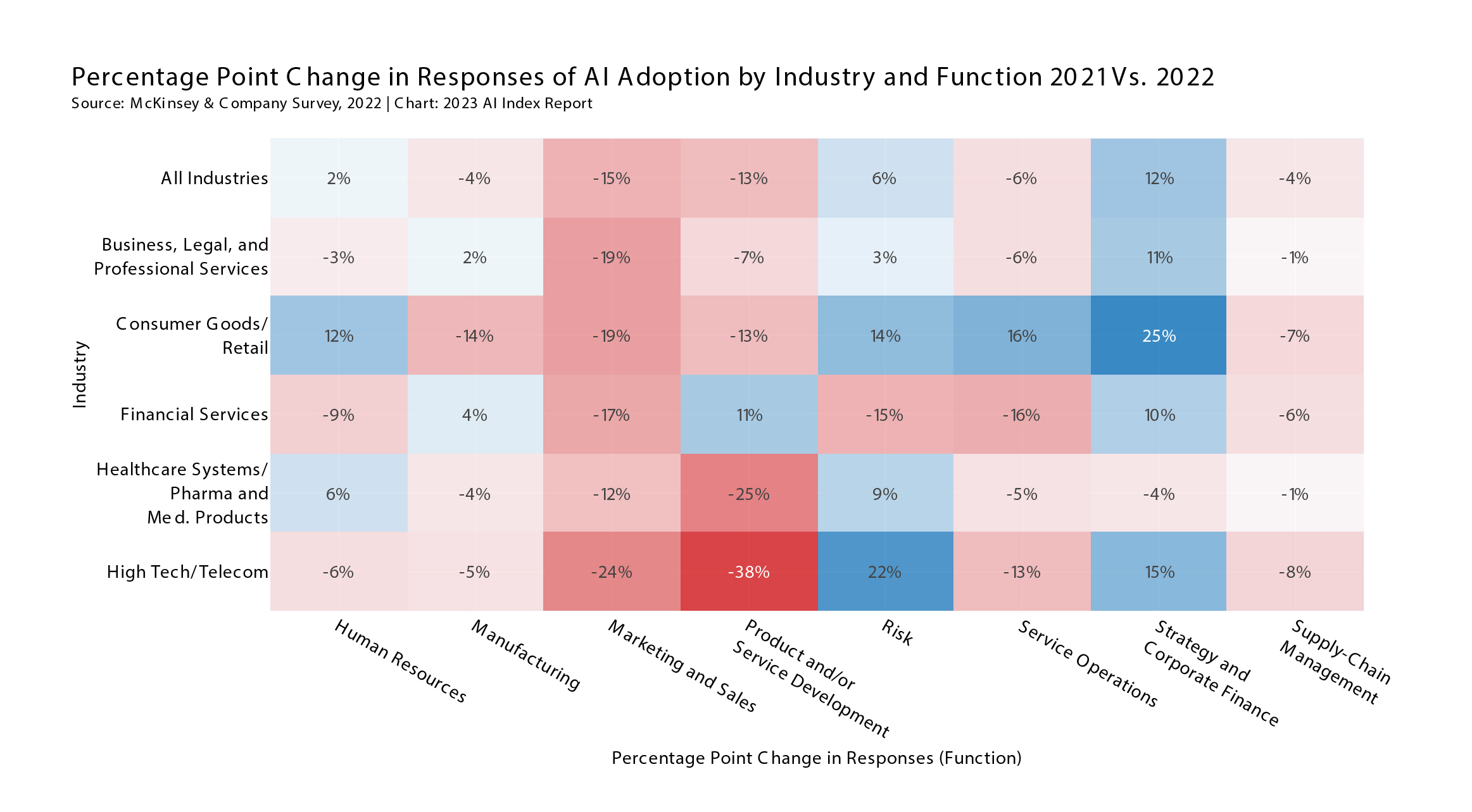 Across all industries, the most embedded AI technologies were robotic process automation (39%), computer vision (34%), natural language text understanding (33%), and virtual agents (33%). The level of usage of robotic automation was much higher (towards 50%) in telecommunications, financial, legal and professional services firms.
Against the general trend of a plateauing of corporate adoption of AI, AI-powered industrial robots are roaring back, increasing globally in 2021 by 31.3% over 2020. As China seeks to maintain its industrial base in the face of a failing birth rate and raising labour costs, it installed the most industrial robots in 2021 (268,200), 5.7 times the number installed by Japan (47,200) and 7.7 times the number installed by the United States (35,000). In 2013, China accounted for 20.8% of the world's industrial robots, but by 2021 it accounted for 51.8%. By contrast, Singapore, while a much smaller economy, saw a drop of over a third in its AI industrial robots, reflecting its efforts to shift to a professional services economy.
There also has been a small but accelerating shift in the type of robots deployed in commercial settings. So-called traditional robots are designed to work without humans – to fully replace them – whereas collaborative robots are designed to work with humans (probably still replacing some lower skilled workers). In 2017, only 2.8% of all newly installed industrial robots were collaborative but in 2021, this grew to 7.5%.
What's behind the plateauing of corporate adoption of AI?
An overwhelming majority of business leaders perceive AI to be important for the future of their businesses: 94% compared to only 1% who said AI was unimportant. 82% of business leaders also said they "strongly agree/agree" that AI enhances performance and job satisfaction, while only 2% said they "strongly disagree/disagree".
So where's the road block?
When asked what are the main barriers to adopting AI, most identified the difficulty in proving business value of AI (37%), followed by lack of executive commitment (34%), and choosing the right AI technologies (33%). Even when a business had been trialling AI, proving the business case (at 40%) still represented a major challenge in convincing the business to scale up the use of AI. Other challenges to moving beyond a "toe in the AI water" stage included AI risks (50%), getting good training data (44%) and implementation issues (42%), which together suggests AI was proving harder to manage that business leaders initially thought.
Yet once companies get past these hurdles and introduce AI into their mainstream businesses, they report realizing meaningful cost decreases and revenue increases: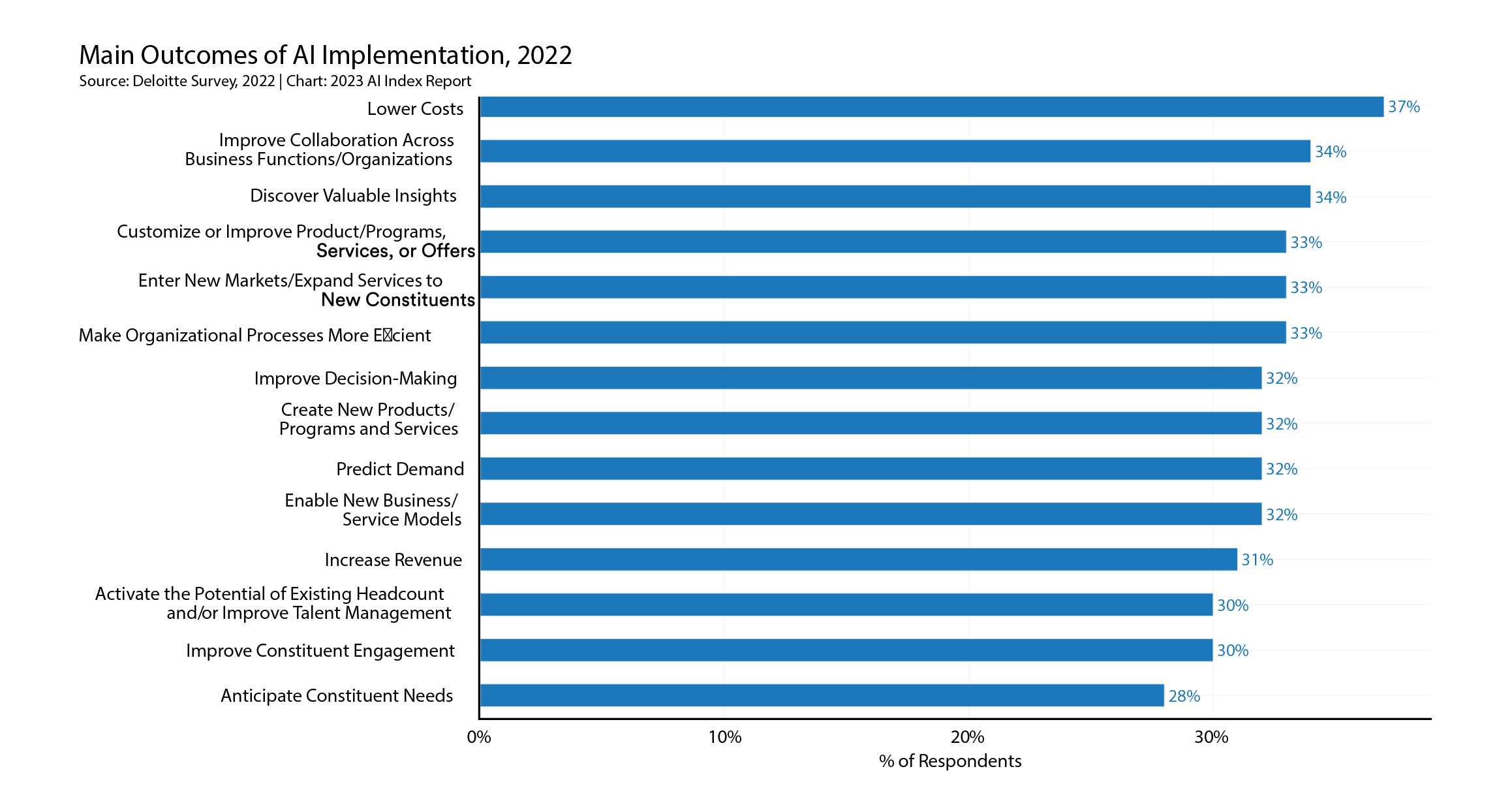 Use of AI you don't see
However stepping back from this data on corporate use of AI, the story of a plateauing in AI adoption seems to run counter to all the hype around AI. One possible explanation, given the easy accessibility of the new generative models of AI, maybe that directors and executives are not fully aware of the extent of AI usage by individual employees. How many performance reviews will be 'polished' this year by chatGPT?
While that may sound innocent enough, performance reviews could include quite sensitive information as employees measure their performance against sales targets, corporate development goals or changes in relative positioning against competitors – all now sitting in the 'belly' of a generative AI model, tougher with similar information gathered from the performance reviews of employees in other companies across the economy.
Professor Rob Nicholls discussed a recent case in which Samsung engineers used chatGPT to check their coding and improve their meeting notes:
"The problem is that ChatGPT can then include the material that you have used as a prompt to improve its answers in the future, "training" the algorithms. This is precisely what happened to Samsung developers who used ChatGPT to both improve code and keep meeting notes. Material that would have been regarded as some of the most sensitive by Samsung was available to developers outside of Samsung, simply because Samsung engineers used ChatGPT to decrease their development time."
Read more: The AI Index Report: Measuring trends in Artificial Intelligence
KNOWLEDGE ARTICLES YOU MAY BE INTERESTED IN: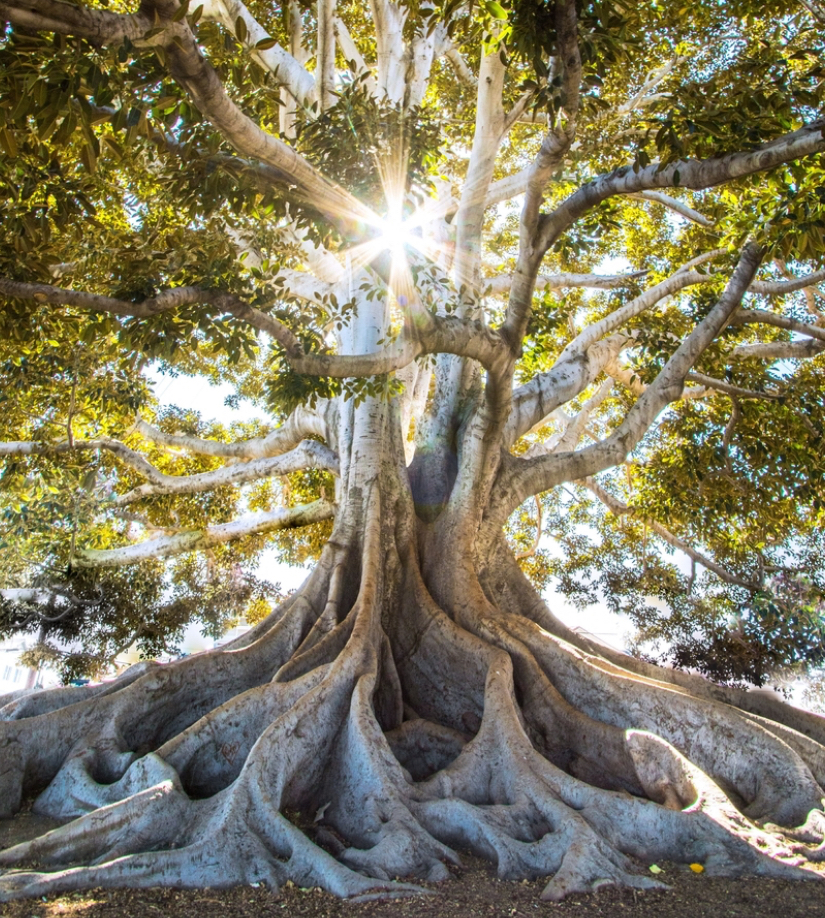 Subscribe to receive our latest articles and insights.