24/09/2021
Of all the Environmental Protection Authorities in Australia, it is the WA Environmental Protection Authority (WA EPA) that is quietly leading the way on emissions reductions, refusing to shy away from its role in protecting the environment.  Recent environmental approvals of new and large projects have been given subject to clear conditions for the avoidance, reduction and offset of greenhouse gas emissions.  Such conditions have ranged from a general requirement to exact targets over set interim periods to achieve net zero greenhouse gas emissions by 2050, and are informed by the WA EPA's primary artillery, the revised Environmental Factor Guideline: Greenhouse Gas Emissions (GHG Guideline). 
The WA EPA's guiding approach has been felt across industries and companies, affecting names as big as Woodside and FMG (through its Pilbara Energy Generation Power Station project (Pilbara Energy)), and covering mining and gas majors to electricity and, most recently, fertiliser plants. 
Against the backdrop of the COVID-19 pandemic, which has coincided with an acceleration of global interest in climate change, clean energy and green technologies, the WA EPA's bold foray into black letter emissions reductions is a signal to the rest of Australia that the time for action is now.  Directors and senior management should be aware that such developments are only likely to intensify and companies should prepare themselves for stricter greenhouse gas emissions reporting and reduction targets in relation to new, large project approvals, as well as significant expansions leading to an increase in greenhouse gas emissions.
Key takeaways
Given the WA EPA's track record on approving new, large emissions intensive projects subject to conditions, we consider that four key trends are likely to impact future emissions intensive projects, namely:
a shift to mandatory emissions reduction targets to achieve net zero by 2050;
increased investment in emissions reduction technologies;
broader regulation to include greenhouse gas emissions along the whole value chain; and
increased scrutiny of the effectiveness of offsets.
WA EPA's approach to greenhouse gas emissions reductions
By way of background, prior to implementing significant projects in WA, project proponents require environmental approval under the Environmental Protection Act 1986 (WA).  The WA EPA assesses projects and provides recommendations to the Minister for Environment, who (in consultation with other relevant Ministers) ultimately decides whether to approve a project and on what conditions.  The GHG Guideline informs the WA EPA's assessment of proposals referred to it where those proposals indicate that greenhouse gas emissions will exceed 100,000 tonnes of carbon dioxide equivalent.
The most recent revision of the GHG Guideline, released in April 2020, requires that new large projects, as well as expansions leading to an increase in greenhouse gas emissions, must demonstrate how they will contribute to net zero greenhouse gas emissions by 2050.  In particular, a proponent is required to develop a 'Greenhouse Gas Management Plan' demonstrating the proponent's "contribution towards the aspiration of net zero emissions by 2050", including interim targets reflecting an overall reduction in scope 1 emissions over the proposed project's lifetime.  There is a potential risk that companies undertaking an expansion of existing operations may find their entire operation subject to greenhouse gas emissions reduction conditions, rather than only the expansion.  However, the WA EPA has indicated in the GHG Guideline that its assessment will be informed on a case-by-case, flexible basis.  
The WA EPA's approach under the GHG Guideline differs from previous guidelines in that it requires tangible and specific targets to be set by proponents in reducing their greenhouse gas emissions; it is also a step back from the hardline March 2019 guideline proposals that sought to require that new major projects offset all their greenhouse gas emissions from the outset.  
Emissions reduction conditions imposed on recent new, large projects
Despite this back down and the reference to an 'aspirational' net zero target by 2050, it appears that, in practice, the WA EPA is flexing more muscle under the GHG Guideline.  2021 has seen significant proposals being approved subject to emissions reduction conditions that require definitive and tangible reductions.
In February 2021, the Pilbara Energy received ministerial approval.  Condition 6 of the ministerial statement requires set interim reductions of greenhouse gas emissions to zero tonnes of carbon dioxide equivalent by 1 July 2040.  Meanwhile, the ministerial approval for Covalent's lithium hydroxide refinery in Kwinana, Perth, requires net zero by 1 July 2050.
Interestingly, Stage 2 of the Waitsia Gas Project, a joint venture between Beach Energy Ltd and Mitsui E&P Australia Pty Ltd, is not subject to specific emissions reduction conditions.  Rather, the project is merely required to avoid, reduce and offset its emissions over successive five-year periods over the life of the project, without being subject to numerical interim targets.  However, the joint venture parties have committed to reducing greenhouse gas emissions and the project is expected to offset approximately 60% of its emissions as a result.
Following independent expert advice from the WA EPA, the Minister for Environment approved changes to Woodside's Pluto LNG project.  The project is now subject to a 'target' 30% reduction in greenhouse gas emissions by 2030.  The WA EPA is set to review Woodside's original ministerial statement to ensure compliance with the revised emissions target.  However, journalist Peter Milne has drawn attention to the fact that Woodside's revised target does not require as great a reduction in greenhouse gas emissions as it would seem, in his post Woodside's real plan for Pluto LNG: delay action, not reduce emissions.  Nevertheless, the conditions reflect the WA EPA's increasing scrutiny of greenhouse gas emissions, a trend which is only likely to continue.
Most recently in September 2021, the WA EPA approved the Perdaman Urea Plant (Perdaman) subject to greenhouse gas emissions reductions reaching net zero by 2050, with reductions spaced over 5-year intervals.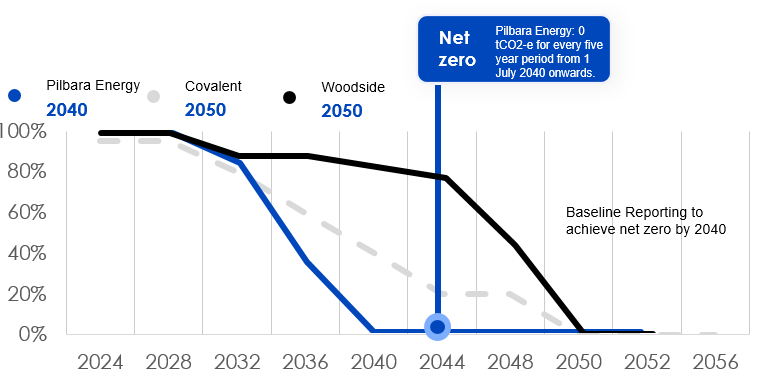 Emissions reductions required against baseline reporting to reduce greenhouse gas emissions to net zero by 2050 (includes interim steps under WA EPA conditions where relevant).
Where are we headed now? 
We see four key trends emerging from the WA EPA's implementation of the GHG Guideline that are likely to impact future emissions intensive projects.
First, it is likely that the current 'aspirational' target of net zero by 2050 will shift towards a mandatory target.  Despite the wording of the GHG Guideline, the conditions imposed on Covalent, Pilbara Energy and Perdaman's projects demonstrate that the WA EPA already expects tangible emissions reductions to occur.  These projects are under clear conditions to reduce or offset their greenhouse gas emissions to net zero by 2050.  
The WA EPA's March 2019 proposed guideline amendments originally required an immediate and complete offset of all greenhouse gas emissions produced.  This may be an indication of where the WA EPA is willing to go with future revisions of the guideline.  As of 30 June, the WA EPA has commenced its review of the GHG Guideline.
Guidance may also be drawn from other Australian jurisdictions, where State governments are pushing for strong net zero targets.  The NSW government has endorsed the Paris Agreement and has committed the State to achieving net zero greenhouse gas emissions by 2050; the Victorian government is aiming for net zero by 2050, with five yearly interim targets to be met in the meantime.  This contrasts with the Commonwealth government commitment under the Paris Agreement to reduce emissions by 26 to 28 per cent on 2005 levels by 2030, with Scott Morrison noting a 'preferable' target of net zero by 2050.  Queensland maintains a similar target to WA, with an aspirational target of net zero emissions by 2050 and a 30% reduction in emissions on 2005 levels by 2030.  These targets may be given additional impetus by the UN Climate Change Conference (COP26), to be held in Scotland in November: see COP26 promises and problems for net zero ambitions.
Second, we expect pressure will increase on proponents to invest in emissions reduction technologies and offsets for scope 1 emissions.  Current predictions for limiting global warming to 1.5 to 2 degrees Celsius are not promising and, given that Pilbara Energy is already subject to a net zero target by 2040, we expect that timelines for net zero targets will become tighter.  Powerful international movements such as 'The Climate Pledge' are already facilitating a net zero carbon economy by 2040, with companies such as Amazon, Verizon and Microsoft having signed up.  
With tighter timelines, it is likely companies will focus on offsets while technology catches up with aspirations.  In Australia, offsets may be achieved by reforestation initiatives, such as the Yarra Yarra Biodiversity Corridor, which provides Biodiverse Reforestation Carbon Offsets, or by purchasing and trading Australian Carbon Credit Units under the Emissions Reduction Fund.  There are also a range of international offset certification schemes and overseas carbon trading markets: see Carbon markets in Australia and overseas 2021.  As a means of diversifying risk, companies may also consider investing in renewable energy projects, such as Fortescue Future Industries' proposed green hydrogen projects in Tasmania and Brazil, or carbon capture storage technology.
Third, regulatory focus may shift to greenhouse gas emissions across the whole value chain, including scope 3 emissions.  Some Australian jurisdictions, especially NSW, are actively debating how to assess scope 3 emissions from resource developments.  Indeed, the NSW legislative council looked into the Berejiklian government's Environmental Planning and Assessment (Territorial Limits) Bill 2019, which aims to stop the NSW EPA from considering scope 3 greenhouse gas emissions from NSW coal exports.  More recently, the Northern Territory government introduced an WA EPA greenhouse gas policy similar to that in WA.  However, it goes further in that it will cover the mitigation of both scope 1 and scope 2 emissions.
Lastly, increased scrutiny of offsets is likely.  The GHG Guideline enables the WA EPA to consider action taken to mitigate emissions by avoiding, reducing and offsetting emissions (in order of the WA EPA's preferred approach).  At this stage, while companies are re-orientating towards a net zero future, offsets are a popular and straight-forward option.  The WA EPA recommends use of offsets under the Australian Carbon Credit Units scheme to ensure integrity of the offsets.
However, scrutiny of the actual efficacy of offsets is increasing.  The recent devastating bushfires in Australia highlighted the shortcomings of planting trees to offset emissions: when they burn, carbon is released straight back into the atmosphere.  With bushfires increasingly common as the Earth's climate warms, planting trees may come to be considered too risky to provide a viable offset strategy.  Companies may find that certain types of offsets become preferable or even mandatory.  Carbon capture storage, if the technology proves successful, may provide one viable avenue. 
Western Australia's Environmental Protection Authority is the gold standard The WA EPA is leading the way on environmental protection through emissions reduction conditions.  Recent ministerial approvals of new, significant projects demonstrate the WA EPA's commitment to greenhouse gas emissions reductions, with new projects increasingly subject to conditions to reach net zero by 2050.  This provides a stark contrast to the NSW EPA, which was recently brought into line by the Land and Environment Court regarding its lack of climate change environmental protection guidelines: see NSW EPA ordered to develop environmental protection guidelines aimed at climate change.  We expect that targets for net zero by 2050 will only become stronger, while the focus shifts to investing in emissions reduction technologies as well as mitigating emissions across the value chain.
DECARBONISING AUSTRALIA - SURVEY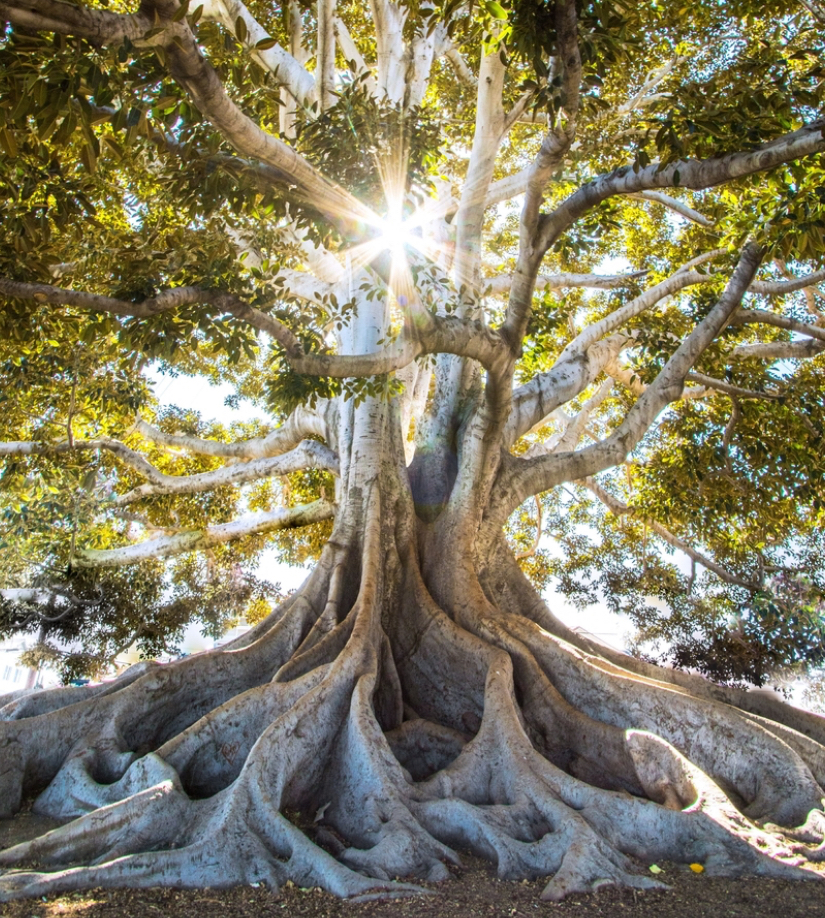 Subscribe to receive our latest articles and insights.