04/04/2023
Activate Consulting in conjunction with the Wall Street Journal has released its authoritative forecast on trends in digital media.
Look at how screen-based we have become!
Activate's analysis of consumer technology and media activity shows that the average US adult now leads a 32-hour day, with over 13 hours spent using technology and media, twice as much time as sleeping and two and a half as much time as for work.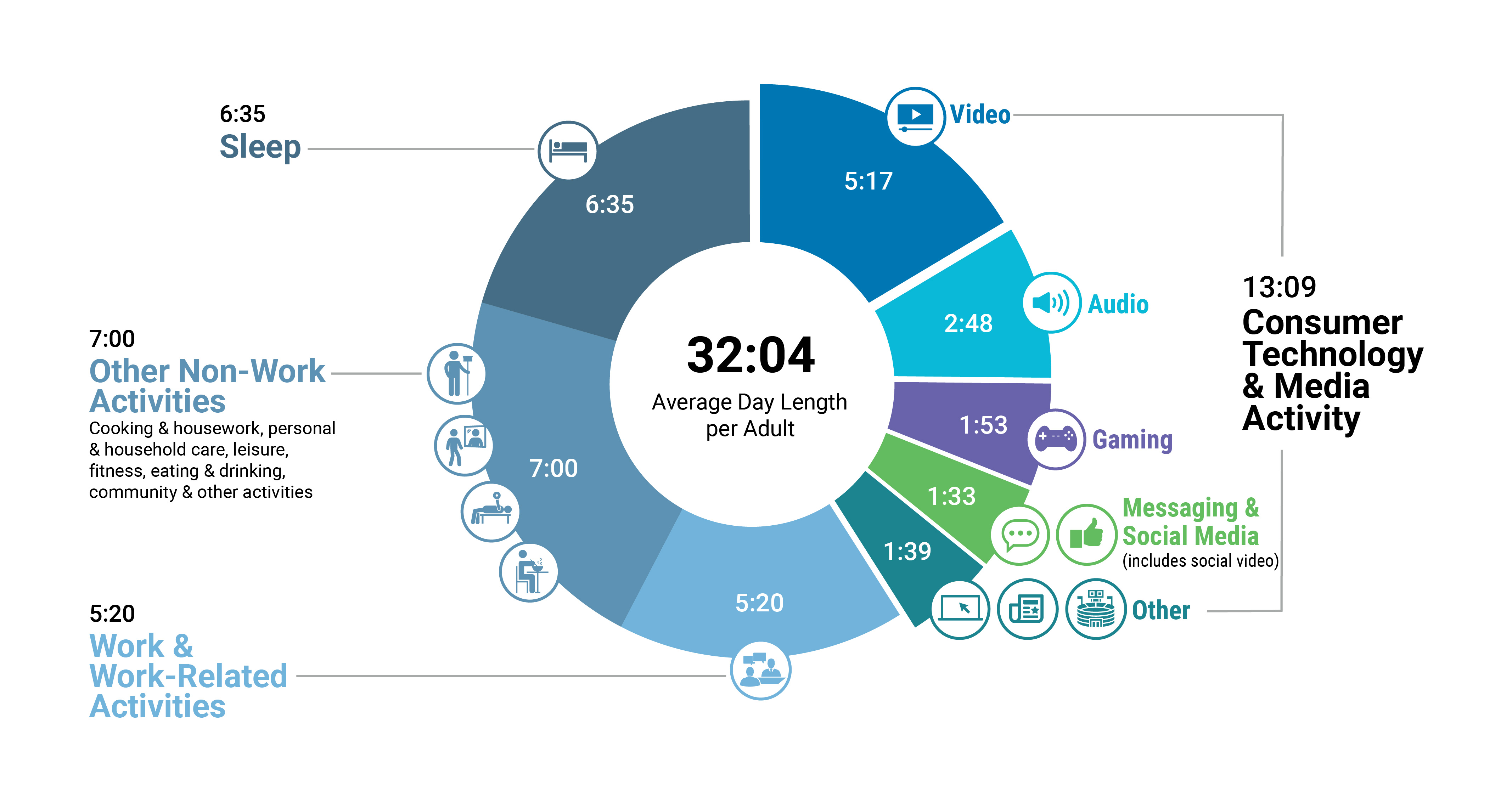 Interestingly, the COVID spike in viewing time of digital entertainment during COVID, which saw increase of 6.3% over the year before COVID, has been maintained, with only a small decrease (0.5%).
Of the 13 hour digital part of this 32 hour day, an unsurprising 40% of the time is spent watching video but audio (which includes music streaming) accounts for 20% of the time and gaming for 12%, both ahead of social media.
So, how do Americans fit a 32 hour day into 24 hours? Multi-tasking is a prevalent behavior among consumers: 68% multi-task when listening to music and 61% multi-task when listening to podcasts, but only 34% multi-task when playing video games and only 21% multi-task when undertaking traditional reading, both of which probably require more focused attention.
The forecast is that over the next 4 years, the average daily time spent on video and social media will plateau; audio will see continued YoY growth of 0.6% but YoY growth in gaming will be 2.7%.
Super-sizing super users
Activate argues that over the next few years "the imperative for technology and media companies will be to identify, reach, and super-serve Super Users".
It would be expected that Super Users account for a disproportionately large share of time and spend across digital media, but just how much is striking:
Although Super Users account for only 22% of digital media consumers, they average 18.55 hours per day consuming digital media, more than double the time spent by the rest of us.
Individual Super Users tend to simultaneously be high consumers of content across the range of digital media verticals, including video, gaming, music, podcasts, messaging, social media, eCommerce, and Metaverse. While Super Users spend most of their time watching videos like the rest of digital media consumers, they spend 3.5 more time playing video games, twice as much time listening to music and 4 times more listening to podcasts.
Super Users are able to fit in so much digital time because they are consistently bigger multi-taskers than everyone else: while 33% of ordinary users multi-task while watching videos, 60% of super users do. Even when playing video games, over half of Super Users multi-task while less than a quarter of the rest of consumers multi-task.
All this translates in higher revenue attributable to Super User. They account for 44% of video revenue (average per Super User spend of US$76 vs US$27 for the rest); an expected 80% of gaming revenue (average Super User spend of US$49 vs US$4 for the rest) and another whooping 80% of music revenue (average Super User spend of US$21 vs US$1 for the rest).
Super Users not only consume across all forms of digital entertainment, but they are also big spenders with online commerce. They account for over 60% of e-commerce spend, and are 3 times more likely to have shopped online and 6 times more likely to have shopped in a livestream event than ordinary consumers.
To fuel all this usage, 88% of super users subscribe to an unlimited mobile data plan compared to 66% of other users.
Yet Super Users are not always glued to their screens, but potentially 'live in the real world' more than the rest of us post-COVID. In the last 12 months, Super Users were between three and four times more likely to attend in-person concerts, comedy shows and sports events than ordinary digital media consumers. In the next 12 months, 56% of Super Users intend to go to a concert compared to only 20% of ordinary digital media consumers.
Where video is headed
While the growth in total video viewing will flat over the next 4 years, the balance will continue to shift against traditional television (live and time shifted), with a YOY compound growth rate over the 2022-2026 period of -4.8% compared to video streaming of +4%. The device of choice for video will be connected TVs, with a penetration rate of 74% in the US by 2026.
As the number of video streaming services has multiplied, the average number of services to which each household subscribes also has grown dramatically. In 2017, nearly half of households with a streaming service subscribed to one service and only 21% of households had 3 or more services. In 2022, that had flipped, with only 17% of streaming households having one service while 67% having 3 or more services. By 2026, the average household will have over 6 subscriptions.
There is some better news for cinemas. During the pandemic, direct-to-streaming strategies (i.e. bypassing cinemas because they were shuttered for the pandemic) from HBO Max and Disney+ led to subscriber growth and retention, with over 80% of subscribers identifying new release movies as the reason they subscribed or maintained their subscription. But post-pandemic, major film studios have returned to giving films an exclusive theatrical run, but now for shorter periods of time than pre-COVID. For example, Elvis was released exclusively in theatres and arrived on HBO Max 70 days later, and even with that short window, it still grossed over $150M in U.S. box office revenue.
This return to cinema release seems to reflect the enduring love many of us have for the cinema: 40% of consumers prefer to see a first release movie in cinemas (compared to 42% online) and half of US consumers expect to attend the cinema at least once a month.
Interestingly, there evidence that an early streaming release does cannabalise cinema or vice versa. For example, the latest Thor movie both grossed $343 million at the box office and hit 25 million hours of streaming in its first week on Disney+, right up there with some of Disney+'s direct- to-streaming movies such as Red Notice at 30.7 million viewing hours in its first week on the service.
Original content (i.e. made or commissioned by the streaming service itself) drives viewership on streaming services, accounting for 60% of viewing hours. As a result, streaming content spend on original series and movies is rapidly growing, especially amongst the new entrants. In 2021, Netflix spent $17.5 billion globally on content creation, and is estimated to spend $21.1 billion by 2026. While Netflix will remain the biggest content spender, the Disney services will see global content spend grow from $6.3 billion in 2021 to $19.8 billion in 2026, nearly catching Netflix. HBO's content spend is estimated to grow over the same period at a CAGR of 40%.
Influencers clearly rule on social media. Viewing of 'social media video' is overwhelmingly driven by a limited number of powerful influencers, not just on TikTok but across all platforms. 91% of video views on Youtube are attributable to influencers, with only 6% for views for video created by a more traditional professional content creator, such as a media company. Even on Instagram, brands selling their own services and goods account for only 12% of video views, with influencers accounting for 83%.
Where is audio headed?
The trends in audio are broadly similar to video:
Traditional radio is declining: in 2019, listening hours were roughly evenly split between radio and streaming but by 2026 streaming will account for 63% and radio only 37%.
Digital music revenue currently accounts for about 35% of total music industry revenue, but by 2026 is estimated to account for 45%.
64% of music streaming consumers use multiple streaming services, up from 43% in 2019, and 40% have three or more services.
A third of music streaming subscribers only use a free service, and they are mostly aged 55 and over.
Most consumers to listen to streaming music on their phones or tablets.
TikTok has helped drive consumer engagement with music. TikTok users are twice as likely to spend money on music as non-users, one and a half times as likely to attend live music events as non-users, and use nearly twice as many music services as non-users. Much of this appears to come down to TikTok's Discover feature, which allows users to search and explore the wide variety of content in the TikTok community, including trending videos, hashtags, creators, and sponsored content.
Music streaming services also seem to have unlocked our creativity. Nearly 40% of music listeners create music or are interested in creating music, driving demand for creation and distribution tools that best serve the needs of independent creators. For example, Enables creators to distribute their music on TikTok. Distrokid Provides monthly grants of up to $100K to independent artists and helps them distribute their music through Snapchat.
As with cinema, digital music surprisingly has not killed off concerts. The global live music revenues are expected to exceed pre-COVID levels by 2023 and grow to $35.5 billion globally by 2026. And its not just the young attending: while 58% of people 18-34 say they intend to attend a live event in the next 12 months, so too do 57% of those aged 34-54.
Music streaming services and social media are both converging on podcasts as the next 'sweet spot' in audio. Nearly 40% of Spotify subscribers listen to podcasts as well. Social media companies are increasingly integrating podcasts into their platforms, driving new modes of podcast discovery and consumption.
In part this focus on podcasts seems to be because podcast users are highly receptive to podcast advertising – 82% are likely to look into a product/service being advertised during a podcast. This might reflect the highly targeted nature of advertising possible with podcasts: first, the subject matter of the podcast 'self-selects' consumer interests, and then ads can be dropped into the podcast feed which are further tailored to listeners based on their individual traits (e.g. geography, demographics). For example, Spotify has acquired the ad tech firms Chartable and Podsights.
Gaming morphs into the Metaverse?
There are 2.364 billion active gamers world-wide, over 90% of them outside the US. Global gaming revenue in 2022 is estimated at $182 billion, and is forecast to grow to $218 billion by 2026, at a CAGR of 5%, far outstripping video and audio.
While the mega-games like Call of Duty: Vangard garner strong loyalty, heavy users of gaming services (called habitual gamers) also play across gaming platforms, with 86% using two or more platforms.
Unsurprisingly, 67% of habitual gamers are men, 53% are aged 18-34 and 40% of them come from higher income households (where they are usually the sole or primary income earner). The average monthly spend of a US gamer is US$23.87.
Gamers are also, like podcast listeners, open to advertising. Three quarters of habitual gamers and half of recreational gamers will sit through advertising in return for free gaming content, more so on mobile phones.
Gaming IP is increasingly leveraged in other forms of entertainment as studios capitalize on increased consumer affinity and demand. The Sonic the Hedgehog game series sold ~5M units in 2022. Sonic the Hedgehog 2 also became the top grossing video game movie of all time, earning $331M at the box office.
But probably the bigger trend is for the digital media companies to take what Activate calls a "full stack approach to build out capabilities in the gaming space", as depicted below: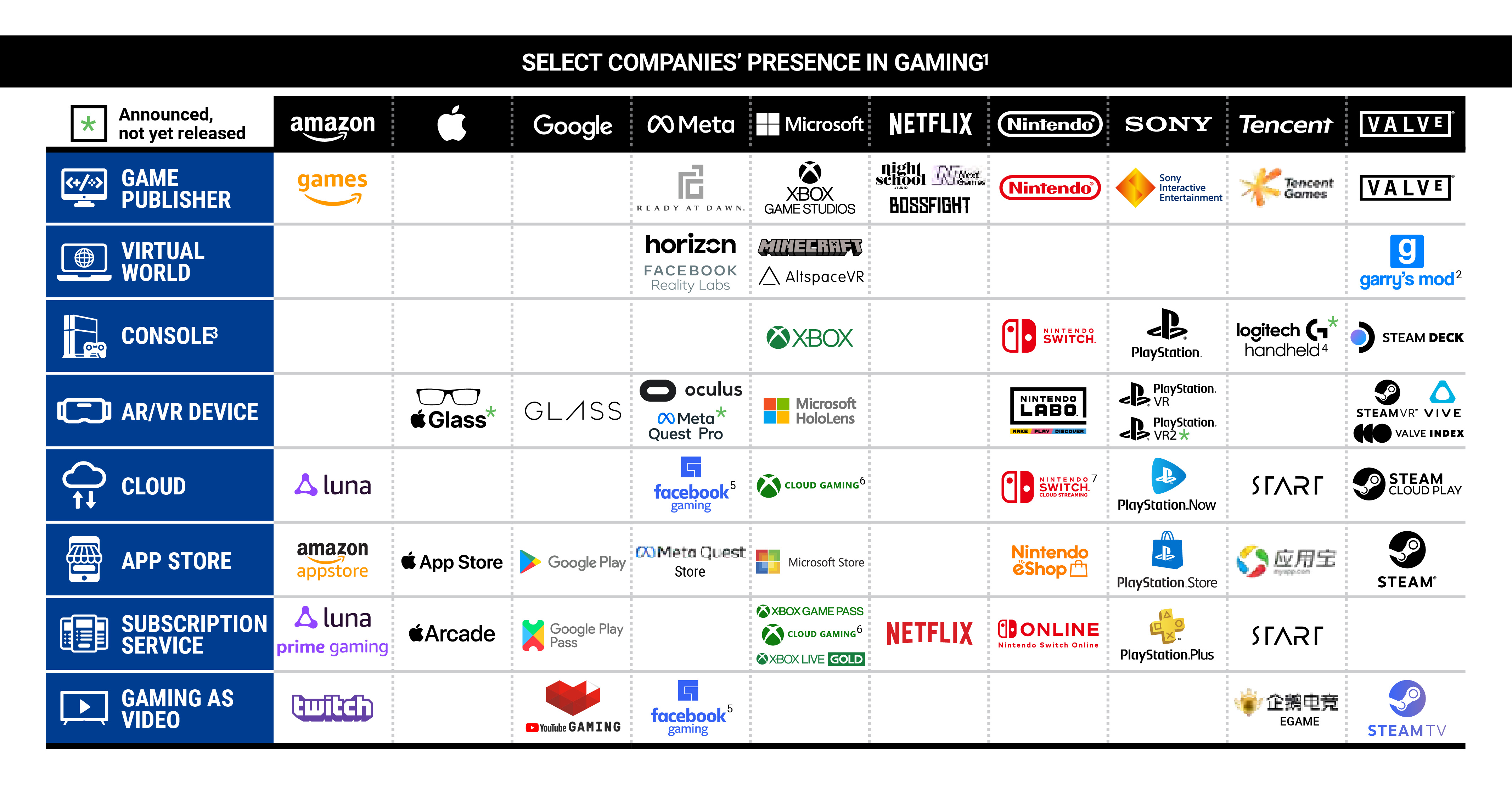 The media companies seem to be treating gaming as the 'yellow brick road' to the Metaverse: the 'vertical stack' depicted above are the building blocks of the Metaverse. Gaming platforms also are encouraging more 'community-driven behaviour' (or at least the online version of that) as games offer integrated 'social features'. Many of the popular games include in-game chat features, ability to connect to social media, and the ability to form teams, as well as bonuses based on friendship tier levels, the ability to send in-game gifts to others, and the ability to invite players from the same local area.
Also, gaming platforms increasingly support a wide range of non-gaming activities with games, with over 77% of US gamers already engaged in non-game activities. Nearly half of gamers regularly watch movies and TV shows within games and socialise with other people, a third create avatars and personalised virtual items, and a quarter are creating virtual places of their own and purchasing virtual goods.
Read more: Activate technology & media outlook 2023
KNOWLEDGE ARTICLES YOU MAY BE INTERESTED IN: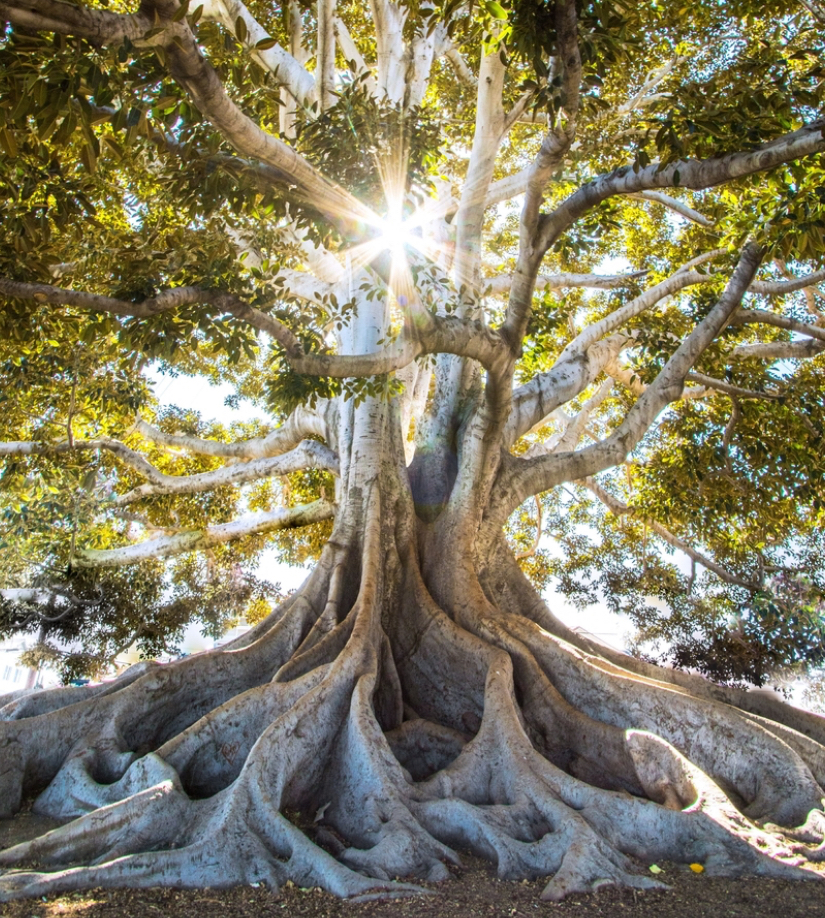 Subscribe to receive our latest articles and insights.